Children's Dentistry – Rockwall, TX
Creating Kid-Friendly Dental Experiences
A child's first visit to the dentist should be enjoyable. Children are not born with a natural fear of the dentist, but they can fear the unknown. At Courtin Dental, our team makes every effort to use pleasant, non-frightening, simple words to describe each treatment. We want you and your child to feel at-ease from the moment your family arrives at our office. As a mother of three herself, Dr. Mary Courtin knows how to keep children's dental appointments calm, positive, and productive. Call us today to learn more about how we can help your little one smile!
Why Choose Courtin Dental for Children's Dentistry?
Convenient Block Scheduling for Families
Certified to Provide Sedation Dentistry for Kids
We Offer Lip & Tongue Tie Treatment for Infants
Dental Checkups & Cleanings for Kids
You should start bringing your little one to our office for six-month dental checkups by the time they turn one year old, or when their first tooth emerges past their gums – whichever comes first. At each of these appointments, Dr. Courtin will evaluate the growth of their teeth and jaws so that she can stop any potential issues early on. When your child gets a little older, we'll teach them the right ways to care for their smiles at home.
Dental Sealants
While your child is still learning to brush properly, an easy way to keep their smile healthy is to place dental sealants on their most vulnerable teeth. Typically, we apply them to the back teeth, as they have wide, uneven chewing surfaces where food particles and bacteria could get trapped and lead to decay. Within minutes, we can paint a thin, clear coating of composite resin onto these surfaces. The sealants create a barrier against cavity-causing debris that can last for up to a decade.
Fluoride Treatments
Regular fluoride exposure is important at any age, but especially so for kids, as it can strengthen their adult teeth long before they begin to emerge from the gums. Additionally, children could benefit from increased cavity protection since they might be consuming more sugary snacks than they should be, or they might not have mastered brushing and flossing yet. After we've professionally cleaned your child's teeth, we'll take just a few minutes to apply a concentrated fluoride varnish.
Pulp Therapy
If your little one has a cavity that a filling alone can't repair, or an infection in the tooth's interior, we may need to perform pulp therapy. This procedure is similar to a root canal; we numb the area, remove the damaged tissues inside of the tooth, seal it back up, and place a crown or filling over it for protection. The main difference is that with pulp therapy, we take extra care to preserve as much of the healthy tissue as possible to avoid negatively affecting their dental development.
Athletic Mouthguards
Kids who play sports, especially high-contact ones like football, should wear athletic mouthguards during every game and practice. While you can find cheap mouthguards at the sporting goods store, they're not always comfortable, meaning your child is less likely to wear them. Instead, let Dr. Courtin make a custom mouthguard designed to fit their unique smile. These guards will deliver greater comfort and protection, and they can even be personalized with your child's school or team colors!
Palatal Expanders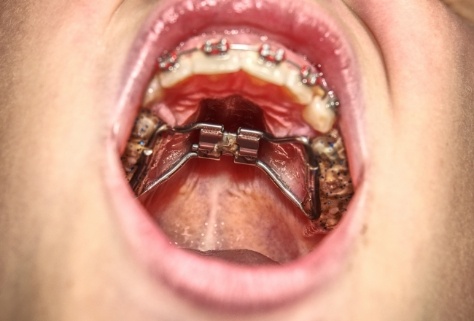 If a child's palate (roof of the mouth) is too narrow, it can lead to severe orthodontic problems and even difficulty breathing later on. Dr. Courtin can recognize and treat a narrow palate early on with a palatal expander. This appliance is attached to several teeth in the back of the upper arch and gradually separates the bones of the palate, which are still pliable until about age 15. You'll activate the expander every day by turning it with a special key, and treatment should last for several months.