Dental Implants – Rockwall, TX
The Healthiest & Most Reliable Tooth Replacement
Maybe you'd like to fill the empty spaces in your smile, but you don't want to have a healthy tooth structure removed to place a dental bridge. Perhaps you're sick and tired of wearing an uncomfortable, unreliable denture. Whatever the case may be, you'll be pleased to know that dental implants provide reliable tooth replacement without weakening your remaining teeth. This state-of-the-art solution will make you feel as though you'd never lost your natural teeth at all, and at Courtin Dental, we can complete your entire treatment in one location. Contact us to schedule your dental implant consultation!
Why Choose Courtin Dental for Dental Implants?
Start-to-Finish Dental Implant Care Under One Roof
Dentist with Advanced Experience in Oral Surgery
Flexible In-House Dental Financing Available
What Are Dental Implants?
Dental implants are tiny, screw-shaped posts that we can surgically place into the jawbone. They're made from titanium, which encourages the bone to grow around the posts until they've become just as firmly attached as the roots of your natural teeth. At that point, the implants can support any number of replacement teeth – whether that's with a dental crown, a bridge, or a denture. The foundation that implants form with your jaw also makes them much more secure and longer lasting than any other tooth replacement.
The 4-Step Dental Implant Process
Dr. Courtin's expertise allows her to handle the entire dental implant treatment in-house for a more convenient and streamlined experience. The details of your treatment may vary, but the four basic steps of the process are:
Consultation – First, we evaluate your mouth and jaw to determine the specifics of your treatment.
Surgery – During a fairly brief oral surgery, Dr. Courtin places the implant posts into your jaw.
Osseointegration – It takes up to six months for your jawbone to grow around the implants in a process called osseointegration. This process is the key to the stability that implants provide.
Restoration – Once your mouth is finished healing, we can secure your custom-made crown, bridge, or denture onto your implants.
Benefits of Dental Implants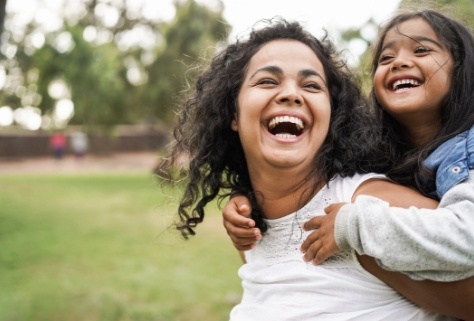 Because they're embedded in your jaw rather than sitting on your gums or remaining teeth, dental implants offer several advantages over traditional prosthetics. These include:
Lasting results – Dentures and bridges must be replaced every decade at most, but implants can potentially last for 30 years or a lifetime!
Better oral health – Unlike a dental bridge, implants don't rely on your natural teeth for support, so they preserve the tooth structure you have left.
Unmatched stability – You'll never have to worry about your teeth shifting around or falling out, no matter what foods you eat.
Who Dental Implants Can Help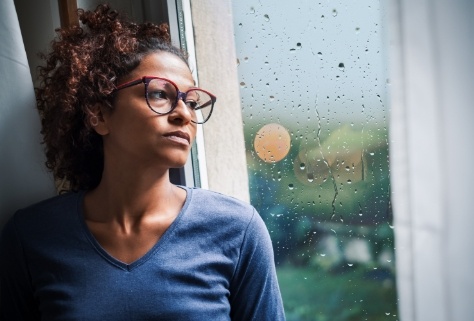 Once you've attended a consultation with Dr. Courtin, she'll have a clear picture of whether you're a good candidate for dental implants, as well as what exactly she needs to do in order to give you a complete smile. If you're an overall healthy adult, chances are you qualify for this treatment. Implants can replace any number of lost teeth.
Missing One Tooth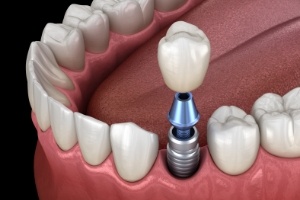 Dr. Courtin can replacing a single missing tooth by vertically positioning one implant post into the gap and attaching a dental crown on top of it. Not only is the crown tailor-made to match the surrounding teeth, but the implant doesn't need support from your remaining teeth like a dental bridge does.
Missing Multiple Teeth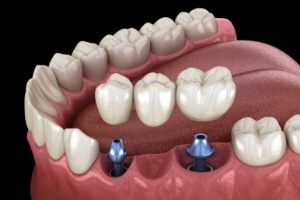 If you're missing several teeth in a row, you'll be happy to know that we don't necessarily need to place a dedicated implant for each tooth. Instead, we can often place one implant at either end of the empty space. Together, these implants will support a dental bridge that is more reliable than traditional ones.
Missing All of Your Teeth
Securing a full denture onto dental implants can make you feel like you've gotten all of your natural teeth back. In most cases, we can strategically place between four and eight implants along the jaw, creating enough support for an entire row of replacement teeth that stay in place.
Understanding the Cost of Dental Implants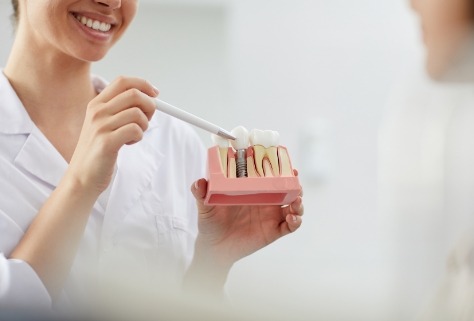 Many patients are intimidated at first by the cost of dental implants compared to bridges and dentures. While implants might seem expensive, they are a perfect example of the saying "you get what you pay for." Their longevity, security, and oral health benefits make them worth every penny. The price of your dental implant treatment can vary based on factors such as the location and number of posts you need, but our team will help you build a treatment plan that doesn't break the bank.